Portland, OR September 10, 2015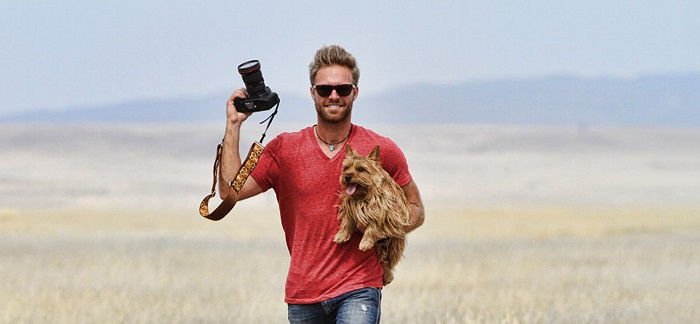 This fall, Banfield Pet Hospital® is embarking on a photographic journey to capture stories and to ask pet parents, "Why is your pet your hero?" Popular animal photographer Seth Casteel, the author of national bestsellers Underwater Dogs and Underwater Puppies, will tour the country with Banfield Pet Hospital to uncover and capture impactful stories and photos about the everyday pet heroes in our lives. Banfield, the world's largest full-service veterinary practice, will kick off the "Pets Are Heroes Too" tour the weekend of September 11 in Minneapolis, Minnesota.
"There are few things as powerful as the human-pet bond," said Daniel Aja, DVM, chief medical officer at Banfield Pet Hospital. "We are excited about this opportunity to partner with Seth Casteel who has spent years chronicling pet stories. Pets continue to transform our lives and change the way we think about and care for them, and the 'Pets Are Heroes Too' tour will encourage people to stop and celebrate the special role their pet plays in their life."
Banfield is asking pet parents to share stories about why their pet is their hero and Casteel will be available to document these unique and inspiring pets with one-of-a-kind portraits to bring these stories to life. Pet parents interested in their stories should look for Banfield and Casteel in the following cities:
"Pets Are Heroes Too" Tour Location and Dates
September 11-12 - Minneapolis, MN
- Friday - Lake of the Isles and Lake of the Isles Off-Leash Recreation Area
- Saturday - Stanley's Northeast Bar Room

October 1-2 – Seattle, WA
- Thursday - Magnuson Dog Park
- Friday - Westcrest Dog Park

October 9-10 – New York City, NY
- >Friday - Central Park
- Saturday - Madison Square Park Dog Run

October 16-17 – Miami, FL
- Friday - Palm Circle Park
- Saturday - Kennedy Park

October 23-24 – San Diego, CA
- Friday - Ocean Beach Dog Beach "The Original Dog Beach"
- Saturday - Balboa Park
"I'm excited to help Banfield showcase pet heroes across the country," Casteel said. "Pets are our heroes; my dog Nala is certainly mine. She inspired me to become a photographer and participate in projects that allow me the privilege to give back. I can't wait to help others across the country share their stories through something I love, photography."
About Seth Casteel
Seth Casteel is an award-winning photographer and the author of the national bestsellers Underwater Dogs, Underwater Puppies and Underwater Babies. His photographs have been featured in hundreds of media outlets including the New York Times, National Geographic Magazine, NBC Nightly News, The Today Show and Good Morning America. Seth's non-profit campaign, One Picture Saves a Life, inspires, empowers and educates animal ambassadors around the world to improve the image of rescue and adoption through positive photography. He lives in Venice, California with his rescue doodle, Nala.
About Banfield Pet Hospital
Founded in Portland, Ore. in 1955, Banfield is the largest general veterinary practice in the world. In 2007, Banfield joined the Mars, Inc. family of businesses, and today it is more than 900 hospitals strong in neighborhoods across the United States and Puerto Rico. More than 3,200 veterinarians at Banfield are committed to giving pets the highest quality of veterinary care. Banfield hospitals offer a full range of comprehensive medical services, computerized medical records, preventive care plans for pets and extended operating hours. Banfield Pet Hospital provides preventive care for millions of pets each year through Optimum Wellness Plans. For journalists seeking more information, visit our media and press page or contact the Media Hotline at 888-355-0595.
Media Contacts:
Lauren Irving
[email protected]; 503-922-5025
Banfield Pet Hospital® Media Hotline, 1-888-355-0595
Sandy Sirirat
Hill+Knowlton Strategies
[email protected]; 310-463-9117
Find a Banfield near you
Search by zip code, or by both city & state.
This field is required.
Optimum Wellness Plans®
Affordable packages of smart, high-quality preventive petcare to help keep your pet happy and healthy.
See OWP packages