National May 18, 2014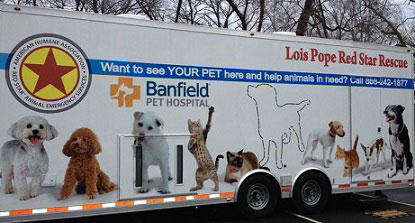 June 1 marks the beginning of the 2014 Atlantic hurricane season. Banfield Pet Hospital and American Humane Association are mobilizing the newest addition to their Red Star®emergency rescue program to ensure pet owners and their pets are prepared to weather the storms ahead. Red Star is presented by Mars Petcare US, makers of Pedigree® Food for Dogs.
Natural disasters and weather events can be a serious threat to pets that may become injured or lost in the destruction and chaos. Beginning on June 3, Banfield and American Humane Association will embark on a tour of the Northeast, stopping in New Jersey, Philadelphia and Washington D.C., and offering free emergency preparedness clinics for pet owners, as well as tours of the Red Star truck.
Disaster Preparedness Tour Schedule:
Tuesday, June 3
Banfield- Holmdel
2101 State Route 35
Holmdel, NJ 07733
10–10:30 a.m. clinic
10:30–12 p.m. tours and Q&A
Thursday, June 5
Banfield-South Philadelphia
2360 W Oregon Ave
Philadelphia, PA 19145-4122
10–10:30 a.m. clinic
10:30–12 p.m. tours and Q&A
Monday, June 9
Banfield-Alexandria
3351 Jefferson Davis Hwy, Unit 10
Alexandria, VA 22305-3126
10–10:30 a.m. clinic
10:30–12 p.m. tours and Q&A
Pet Safety Starts with Preparation
In the case of hurricanes and other natural disasters, preventive care comes in the form of preparation and pet owners can take steps today to protect their pets tomorrow. Download and read our disaster preparedness tip sheet for precautions you can take before, during and after a disaster to help safeguard the well-being of your pet.
To learn more about the history of American Humane's Red Star team, watch this short video.
Find a Banfield near you
Search by zip code, or by both city & state.
This field is required.
Optimum Wellness Plans®
Affordable packages of smart, high-quality preventive petcare to help keep your pet happy and healthy.
See OWP packages