Portland, OR May 28, 2015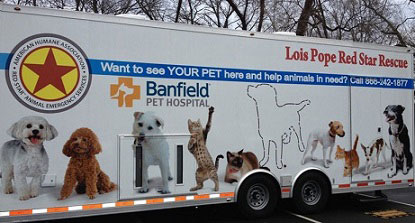 With the 2015 Atlantic hurricane season bearing down on the Northeast beginning June 1 and the devastating floods in Texas, Banfield Pet Hospital and American Humane Association have collaborated on tips to help every pet owner appropriately plan for an emergency with their pet in mind. As with humans, pet safety begins with preparation, including taking the following steps:
Getting pets microchipped is a must—it is the fastest way to be reunited with a pet should s/he become separated during a natural disaster.
Have a pet carrier or crate available for each pet in the family—familiarize pets with the crate ahead of time in case they need to be transported on short notice.
Create a small disaster kit for pets—include a week's supply of food and water, medications, a leash and a toy.
Banfield is also proud to partner with AHA on the newest member of their Red Star rescue fleet – a truck designed and outfitted to provide a wide array of emergency services for pets and families throughout the Northeastern United States in times of disasters. It is staffed by certified and specially-trained responders, carrying supplies and equipment to shelter up to 100 animals, and bringing animal-assisted therapy to children and families. The vehicle, sponsored by Banfield Pet Hospital, Lois Pope and Zoetis, was dedicated to the region so it may respond to emergencies quickly in the entire Northeast area.
Additional Resources
Disaster preparedness tip sheet
Find a Banfield near you
Search by zip code, or by both city & state.
This field is required.
Optimum Wellness Plans®
Affordable packages of smart, high-quality preventive petcare to help keep your pet happy and healthy.
See OWP packages