Yes, you should brush their teeth
One thing that all pups have in common is a need for thorough dental care. Just like for humans, dental hygiene is very important for a healthy puppy mouth. The key is to start early to help avoid smelly, painful dental disease, which is very common in older dogs. Getting your puppy used to regular dental care when they are young can make future dental upkeep easier down the line.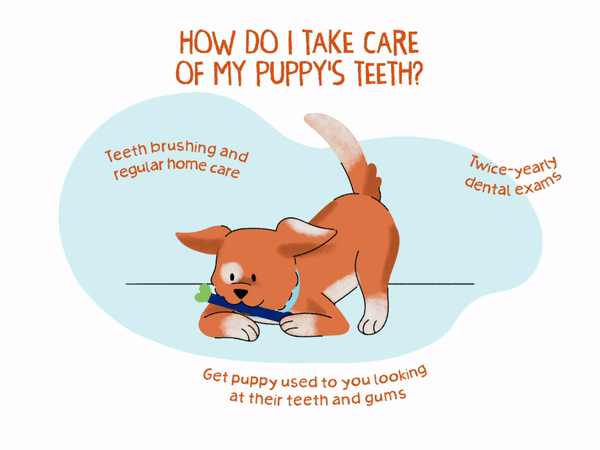 Ready, set, brush brush brush
If your pup allows, flip your puppy's lip to check for brown tartar and stinky breath. Stinky breath is not normal puppy breath! Puppy breath is a sweet smell that will go away as your pup grows up.
Brush your puppy's teeth at home with dog-specific toothpaste (never use toothpaste made for humans!) as frequently as your dog allows. Anything is better than not brushing at all, even if that's once a day, twice a week or a few times a month. See more tooth-brushing tips
You can even involve the whole family! Brushing and treating your puppy's teeth is a great way to involve the older kids to learn proper new pet dental habits together.
Once your pup is over six months, you can give them dental treats (just remember they do have calories, so they count as part of your pup's daily food portion).
When your pup is nearing the one year mark (happy birthday!), it's time for a dental exam, and even an annual cleaning if your veterinary team spots any issues. Why professional dental cleanings matter
Give your pup the "gold standard" for canine dental care
Proper dental habits above while your pup is still a puppy can help keep their mouth healthy. Even past puphood, we always recommend:
Twice-yearly dental exams (as part of their comprehensive exam)
Annual dental cleanings as recommended by your veterinary team.
Continued teeth brushing and regular home care
How Banfield can help
We're here for love, health, and pet dental care. Regular professional dental cleanings and oral exams can help to tackle the buildup of smelly, sticky tartar on your doggo's teeth — helping them avoid painful periodontal disease, tooth loss, and truly stinky pet breath. See why dental disease stinks
Optimum Wellness Plans® 
Affordable packages of smart, high-quality preventive petcare to help keep your pet happy and healthy.
See OWP packages