Puppy love costs a thing (or two)
A new puppy can be a very big decision. On one hand, the joy from bringing a new puppy into your life is priceless. On the other hand, you want to provide a loving and safe home for your pup and ensure that your budget can accommodate their needs.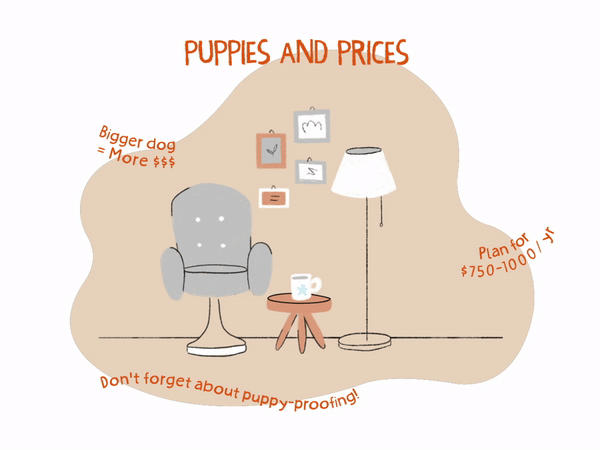 Costs can vary
Owning and caring for a new puppy can be expensive. There's food, shots, and grooming, just to start, as well as unexpected expenses that can pop up, like medical and dental issues. Here is a list of common household dogs and the yearly costs that you can expect to come along with your growing pup, according to the ASPCA:
Larger dog breeds can cost over $1,000 a year
Medium dog breeds, due to their smaller size and lesser food consumption, can cost almost $900 a year
Smaller dogs cost around $750 a year
The bigger the dog, the bigger the bills. But with a little planning, owning a pup can be a manageable expense for any budget.
How Banfield can help
We wish your pup a happy and healthy life. If you run into any special circumstances, suspect a health issue, or need any more information on bringing a new puppy home, reach out to your local Banfield veterinary team. And ask your veterinary team about an Optimum Wellness Plan® for your pup. Our smart and affordable packages of quality preventive care may be able to help you save on basic wellness services like vaccinations and more for the pet you love.
Optimum Wellness Plans® 
Affordable packages of smart, high-quality preventive petcare to help keep your pet happy and healthy.
See OWP packages